A peaceful week of yoga and sunshine in Almeria with Emma Arscott YOAS
21 May - 28 May 2022
Costs
Double or twin room en-suite – £875
Single occupancy room en-suite – £1025
Prices are per person
Includes:
Accommodation
Three vegetarian meals each day
Daily meditation and yoga classes (apart from one yoga free day)
Not included:
Airport transfers
Dinner out at a local restaurant one evening
Optional day-trip and other excursions
Massage treatments
A 50% non-refundable deposit is required on booking and the balance is due 6 weeks before you travel.
Telephone: +44(0)20 7733 2996
The daily programme
Emma will offer two yoga classes each day. The morning class will gently open the body and attune the mind to the breath, building slowly and safely throughout the week into a more dynamic flow. Allowing space for the body and mind to expand, strengthen and feel lighter – cultivating a greater sense of conscious awareness.
There will be time set aside in the day to explore and take in the stunning beauty of the surroundings, relax by the pool or head off to the beach.
The group will meet again in the late afternoon for a more relaxing and restorative practice. The classes will be suitable for all levels and yoga experience. There will be one yoga free day and no yoga on travel days.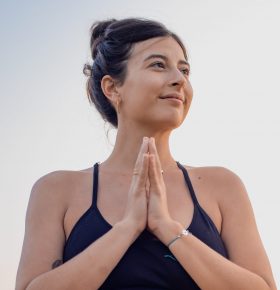 Emma's intention is to create an inspiring space for joy and transformation through yoga, meditation and breathwork. She truly believes that there is so much wisdom within the yoga practice that can reconnect our mind, body and soul and is passionate about making yoga available to as many people as possible.
She trained to teach yoga in Rishikesh, India, the home and heart of yoga and is extremely grateful to all of her amazing teachers she has worked with and learned from. Like a lot of people, she first came to the practice for the physical aspect and very quickly realised that there was a certain magic beyond the poses. The positive effects that the practice generated started to trickle into all aspects of her life and were so profound she felt called to share it with others.
Emma loves to blend modern anatomy teachings with traditional yogic philosophy to create well rounded sessions where you can learn about the fascinating biomechanics of your body, while giving your mind some well needed time and space away from the pressures of daily life. You can expect to be challenged in a slow, yet strong alignment-based flow to strengthen, tone and soothe your body. You will explore and connect through movement and breathwork keeping mindfulness at the heart of the practice. Each class will have a different focus, and there will always be options to make sure you're practicing the right way for your body. You will finish the sessions feeling uplifted, nourished and refreshed ready to take on the world!
Telephone: +44(0)20 7733 2996