Exploring the Wave, a Hatha Yoga retreat with Monica Voss
07 Oct - 14 Oct 2023
Join us at a stunning yoga venue in the far south-east corner of Spain, near Almeria, offering peace and isolation with a spectacular mountain backdrop.
Almeria is Spain's sunniest region and one of the least visited. Its proximity to North Africa means that the area is semi-desert, dry and dramatic, with imposing mountains and dazzling sea. The Almeria yoga venue is on the edge of a remote and beautiful natural park, the Cabo de Gata, which includes unspoiled stretches of Spanish coastline. It's an amazing landscape of perfect half-moon bays, hidden coves, bizarre volcanic rock formations, and spectacular flora and fauna – a wonderful wild coastline, which you will have seen more times than you think as the location of many films including Indiana Jones, Lawrence of Arabia, and Sergio Leone's famous spaghetti westerns!
The centre is within walking distance of a lovely traditional local village which can be seen across the valley at the foot of the mountains.  From North America, fly to Madrid and on to Almeria, the closest international airport only half an hour away and served by Easyjet, Thomas Cook, Iberia and Ryanair.
Exploring the Wave, a Hatha Yoga retreat – everyone welcome!
The spine is designed to move in waves, the brain ticks and the heart
beats, all rhythmically. Every living cell in the body pulsates. When
on retreat, we have time and opportunity to drop inside, feel, study
and explore our internal cyclical, rolling, spiralling actions and
responses by means of breath practice, natural movement, yoga postures
and deep relaxation.
Join me for a week in a fascinating part of Spain – the far south-east
– an area of mountain, desert and sea. Adventure awaits!
Monica Voss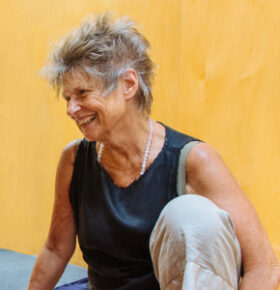 MONICA VOSS has been a student and teacher of yoga for over 40 years. In addition to co-owning and teaching at Esther Myers Yoga Studio in Toronto, Canada, Monica conducts workshops, retreats and teacher training internationally.
REGISTRATION
Your payment is separated into two parts: yoga fees and accommodation/meal package. The Studio portion of the payment ($700, non-refundable) is due now and made directly to Esther Myers Yoga Studio. EMYS accepts cash, e-transfers to info@estheryoga.com, cheques, debit, MasterCard, Visa and credit card payments through Paypal. For room assignments and more information please contact Monica Voss, monica@estheryoga.com.
ACCOMMODATION AND MEALS
Once you have registered with the Studio, contact Joseph Machado at Merit Travel (jmachado@merittravel.com, 416 345-9726 x5319, 111 Peter Street, Suite 101, Toronto, ON, M5V 2H1, TICO-registered #T781396) to pay for your assigned accommodation and meals package (one payment).
Single …$1895
Shared (pp)…$1495
All prices listed are in Canadian dollars and include taxes and agent's fee.
INCLUDED
7 nights at the retreat centre, 3 meals/day (with the exception of one evening meal), travel agent fee
NOT INCLUDED
Flights to and from Spain, all transportation within Spain, snacks, alcohol, excursions, guiding fees, gratuities, massage, laundry, flight and medical insurance. We'll have one evening meal away from the centre.