Returning Home with Marian Dolan
13 Aug - 20 Aug 2022
Prices 
Twin with en-suite: shared £895 or single occupancy £1,145 
Double with en-suite: shared £895pp or single occupancy £1,045
For further details or to make a booking please contact Marian
Expect deliciousness, bliss, love and ease on this retreat. Is it time to slow down and give back to yourself? Are you feeling stuck in need of some inspiration? Are you chasing your tail from one end of the day to the next? If you answer yes to any of those questions, this mindful, wellness breakaway could be exactly what you need. Marian will offer a variety of embodied practices over the process of the week, including functional hatha, slow flow, yin/restorative and meditation.  Hiking usually happens on Tuesday morning (optional) which takes us up the mountain to the local village (an option to bathe in the pure mountain water) and Wednesday is our beach day. Three gorgeous freshly prepared vegetarian meals will be served except for Wednesday evening where we will dine out locally in Nijar. The week will be full of fun, laughter, camaraderie, yet plenty of space for peace and quiet. Many therapists are available every day to suit your needs by appointment. We go back home feeling aligned, rejuvenated and inspired.
Marian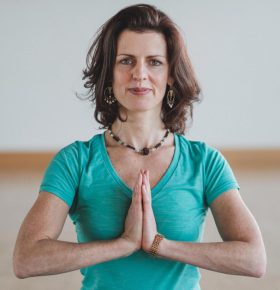 Marian is an experienced yoga teacher based in Kilkenny, Ireland and has been teaching Yoga since 2009.
Her teaching covers styles of yoga including Hatha, Yin, Vinyasa, as well as numerous other classes suited to specific levels of agility or focus areas, including meditation. She also teaches Somatics Movement, a subtle integrative, mind/body therapy to relieve chronic pain for the long term.
She noticed from the very start of her practice how the postures (asanas) had a direct positive effect on the mind, unblocking what is blocked in us, therefore allowing our true spirit to shine. This was the catalyst for her to feel mentally grounded and to move forward in life freely and lovingly with others, nature and the world. Since then she has studied extensively with many world-renowned teachers including Shiva Rea and Bernie Clark.
Marian approaches her classes with clarity, fun and passion, intuitive to peoples' personal needs so they feel empowered and confident to move forward on their own journey.
For further details or to make a booking please contact Marian