Summer yoga and mindfulness retreat with Isabell Britsch
17 Jun - 24 Jun 2023
Daily programme
Join me in my favourite retreat place on the edge of the Cabo de Gata National Park to practice, relax and connect with lovely people.
We'll start each morning with some breathing and a short meditation before we move into an invigorating, creatively sequenced vinyasa flow practice taught with music and including modifications for all levels.
The late afternoon sessions will be slow, nurturing and calming gentle flow and restorative sessions, closing with a longer meditation.
Sessions will include my usual reflections on philosophy, psychology and science to deepen understanding and inspire discussion.
In between there's time to relax by the pool, explore the village of Nijar nearby or venture further afield. There will be one afternoon off to enjoy nearby beaches.
Isabell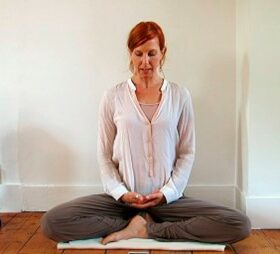 Isabell started her teaching journey in 2009 and now teaches yoga, mindfulness and meditation at a senior level. She also trains new yoga and meditation teachers.
Her flowing vinyasa yoga classes interweave yoga philosophy and thoughts on the psychology of the mind with intelligent, imaginative (and often somewhat unusual) fun sequences. Connection to the breath, attention to alignment, and encouragement to develop clarity and awareness off the mat are integral to her teaching.
Isabell's mindfulness and meditation teaching is influenced by her long standing Vipassana and mindfulness practice. Classes and courses cover a range of subjects including mindfulness, self-compassion, resilience, eastern philosophy, modern psychology, neuroscience and more.
Isabell's teaching is inclusive, and infused by warmth, care and humour.