Connecting from the Foot Up and Beyond – Yoga for All with Natalie Preston
28 Sep - 05 Oct 2024
Join Natalie for a delightful week of mindful movement, meditation, health, fun and rest .
The rhythm of each class will begin with meditation, followed by a morning session of up to 2 hours and later an evening practice of approximately one and a half hours, which will be more restful and breath orientated.
The mornings are spent quietly in order to reduce the mental clutter, self-reflect and feel at one with nature. Plenty of 'Freedom' time is left between the delicious nourishing vegetarian meals, to rest by one of the pools, and enjoy the company of oneself or others.
Natalie's teaching is shaped by a growing spectrum of knowledge taken from various traditions; Hatha Yoga, Iyengar and the lineages of Vanda Scaravelli. The sessions are exploratory and varied, both energising and restful, and offer time to work with one's unique self. The common thread in the work is to dive into the feeling of it, and to trust in letting go of unnecessary tension. Time is spent working with the ground, organising the body well, creating pliability in the tissues and space in the joints in order to move and breathe more freely.
The retreat will be suitable for all as the teaching is structured and progressive, working with rather than against the body, generating strength, confidence and body dexterity.
The simple meditations aim to bring both serenity, focus and wisdom.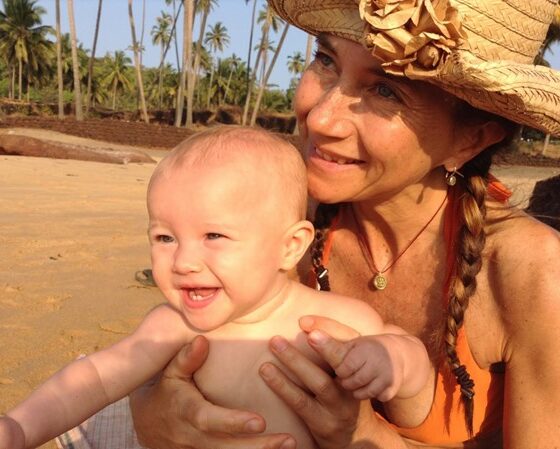 About Natalie
Natalie was propelled into a life change in the 90's after spending time in an ashram in India which led to further extensive periods of time in India mainly on retreat. Since 2000 she has been teaching in London and abroad. Her journey began with Hatha Yoga and Vipassana Meditation. She was struck by how the power of the practice awakens us to the experience of 'Now', can dissolve held patterns from the past, and makes us feel really great! Her scoliotic pattern led her to Iyengar Yoga in order to find useful ways to work with her body and she trained with senior/advanced teachers within that school for 25 years. Since completing the 'Myofascial Movement' anatomy course with Gary Carter (leading expert in fascial research ). She has been expanding her knowledge by meeting weekly under his mentorship. Natalie is appreciated for her care in making the practice therapeutic, appropriate and accessible to all.
She is grateful to have received such wisdom from great teachers. Particularly to Clive Sheriden for his sparkly pointers to the 'Aliveness of Now', for the structured understanding offered by the Iyengar lineage, the exciting wealth of knowledge shared by Gary Carter that marries experience and science.  Further she is grateful to her ' Elder ' homeopath Gloria Feenan for her profound medicine, and not least her daughter Boadicea!
Rates 
Shared twin or double room pp £1050
Single occupancy room pp £1150
Deluxe room (1 only ) £150 surcharge for the room ,
Rates include all meals and teaching.
During one evening mid-week there will be no meal nor practice offered leaving time to explore neighbouring villages and restaurants at your own cost.
Flights, airport transfers and alcohol are excluded from the price.
Welcoming your enquiries to Natalie on