Yoga with Ebony Colley (Tipi Yoga)
10 Sep - 17 Sep 2022
Prices
Shared room – £1100 + a free tipi private class for you both and £50 off the next retreat
Private room – £1350
£300 deposit to secure your space today.
Visit https://www.tipiyoga.co.uk/thespanishretreat for more information, follow tipiyoga on Instagram to stay up to date, email ebony@tipiyoga.co.uk or call 07762744725 with any questions or to book.
A seven-night luxury holistic yoga retreat on the southern Spanish coast; a short drive from the beach. Two or more daily yoga and meditation classes in the Shala or overlooking the gardens in a range of styles including Hatha, Restorative, Core, Yin, meditations and more with two experienced yoga teachers to assist and guide you.
The retreat isn't for those entering the yoga Olympics. It's to learn and submerge yourself in all things yoga, to have fun, relax and try out some new things. Maybe you'll 'get' crow pose, maybe you'll fall asleep in Savasana, either way, you've got what you needed from the retreat.
The classes are beginner friendly but it does help to have some yoga experience as then you can push yourself a little – that's why you get a month of free Tipi Yoga classes in the run up to the retreat (in person or zoom, your choice).
With two experienced, highly qualified yoga and wellbeing teachers at your side this is the opportunity to delve deep into your practice knowing that you are safe and practicing correctly. One teacher will lead, the other will be there to adjust in every class.
There is the choice of double private rooms and twin shared rooms in the spacious and secluded oasis set in citrus and olive groves. Relax in this elegant, palm fronded paradise which has won awards for architecture and boasts two swimming pools. Along with the yoga and wellness at the Finca the retreat includes a beach and city day trip, a walk to a traditional village, a flamenco evening, goodie bags, yoga equipment, towels, strolls with the teachers in the hills and free time to unwind. Delicious vegan meals are served three times a day on the jasmine scented terrace.
The entire week is designed to enrich and enhance your yogic knowledge and wellbeing as well as help you become present, have fun and unwind.
Ebony Colly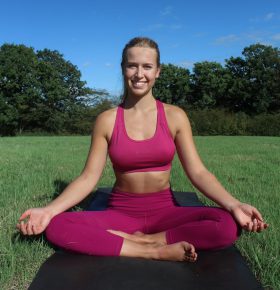 Yoga Alliance YACEP adult yoga certified in 543 hours, Aerial Yoga London trained Aerial Yoga Teacher, CMA accredited Tree of Life qualified in Children Do Yoga, Sunshine Network Teacher, Thai masseuse trained through Jungle Healing accredited with The International Society of Thai Yoga Massage, and onsite massage therapist with the FHT College of Classical Massage. Fully qualified in The Guilds Swedish Full Body Massage.
​Ebony has a fun, understanding and creative approach to sculpting intelligently sequenced yoga flows and classes and applies her experience and love for yoga and anatomy to each practice. This light hearted approach allows all to benefit, irrespective of age and experience.
Her massage is intuitive and knowledgeable.
​
​