'Refresh & Renew' with Amanda MacKenzie
13 May - 16 May 2022
INVESTMENT
Shared accommodation – deposit £150 + £495 = £645pp
Solo – deposit £250 + £495 = £745pp
Deposit due now, final payment due by 8 April '22.
EMAIL 'amanda@yogaromauk.com' to pay deposit.
Come and join Amanda and Amy for:
Life affirming clarity.
– Heart aligning fulfilment.
– Overcoming fears and finding courage.
– Transformative breathing, yoga & meditation.
– Blue Mind workshops for the cold-water curious.
– 3 nights accommodation, incredible food all weekend in the beautiful,
inspiring Welsh countryside.
– AND the time and space to
REFRESH AND RENEW
An immersive, transformative weekend.
YOGA : PRANAYAMA : MEDITATION : LIFE COACHING : BLUE MIND/HYPNOTHERAPY
Delighted to return to this cosy venue, fully equipped yoga studio, with under floor heating, incredible vistas, hosted by Jane and Rowan from Huzur Vadisi who keep us well fed and nourished with all meals for this three-night retreat.
This weekend is for anyone who:
– Desires precious time for self to feel peaceful and focused.
– looking for a long weekend in the UK with yoga, meditation, nature AND a sprinkle of self-transformation
– for those curious about cold-water / wild swimming and would love expert guidance to introduce to you to and wash away fears (with Amy the Blue Hypno Coach.
– Need some nurturing and healing time to be by yourself
– want to build confidence, self-esteem, and courage on the mat and in/out of the water?
YOGA : PRANAYAMA : MEDITATION : LIFE COACHING
Yoga retreats with Amanda are transformative, more than a weekend away but a journey, a shedding of old and a rebuilding of a new aligned purposeful self.
Amanda weaves together years of teaching empowering Yoga and Meditation, and now as a Life Coach.
Her tapestry of skills allows her to hold space to help open-hearted people fill their hearts with empowered life changing vision and confidence.
HYPNOTHERAPY: BLUE MIND
Amy is a certified Life Coach, Hypnotherapist and Blue Health Practitioner who helps people to live a life beyond fear and to step into their power!
She is an eco-diver, free diver and budding surfer who loves to cold water dip and spend as much time by the water as possible, whilst inspiring others to respect the ocean and take care of this planet that we call home.
Included in the long weekend:
– 3 nights cosy, warm, spacious accommodation in mid-Wales.
– All meals – freshly prepared nourishing veggie/vegan/gf (from Friday evening to Monday breakfast)
– 3 morning and 3 evening breathing/pranayama/Hatha yoga practices – all abilities
– 6 life transforming guided meditation sessions
– 2 x Blue Mind Workshops which includes an introduction to Blue Mind, 2 x group hypnotherapy sessions AND 2 x guided cold water dips
– A lightly guided/freeing and expressive dance
– Star gazing & fire circle (weather permitting)
This space is also great for:
Walking/hiking/mountain biking in abundance in local area
Relaxing, enjoying fantastic vistas, reading your book, art
Optional extras:
1:1 Life coaching sessions @£75 per session with Amy or Amanda
Massage therapy with locally recommended therapist
Amanda MacKenzie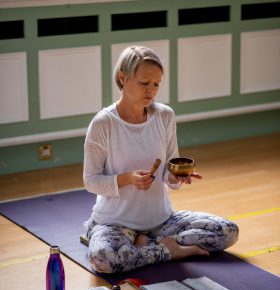 Over the years of teaching full time since 2008 I have come to realise that I am deeply passionate about making yoga accessible to everybody, regardless of ability.  The range of classes I offer ensures that everyone can physically practice yoga, from beginners to experienced practitioners, pregnant students, and students with disabilities. Annual training courses, continued self-study and regular home practice, as well as attending weekly classes and learning from my students keep me working on being the best yoga teacher that I can be. Everything that we learn about ourselves on the yoga mat are wonderful skills that we can carry with us throughout our lives, making yoga a lifelong practice to deepen and enrich our lives. By joining yoga classes with me, you can expect a whole colourful tapestry of what comprises yoga mixed with easy-to-understand philosophy and a sprinkle of humour, whilst I physically challenge you to explore your own potential.
All levels and all abilities are welcome
To Book
To reserve your place please contact Amanda. Should the retreat be cancelled due to Covid restrictions, payments received will be refunded or transferred to another date.
Full payment/the balance will be required 6 weeks ahead of the retreat.
A Health/Student Information form will be sent out prior to the retreat.