A yoga retreat on the stunning turquoise coast with Lara Stapleton YOAS Yoga Retreats
02 Oct - 09 Oct 2023
Daily programme
Each day will begin with a two hour yoga class in the spacious and fully equipped yoga shala, set amidst the olive trees and vines. Lara's morning class will include asana, meditation and pranayama. Gently opening the body and attuning the mind to the breath, the class will slowly move and build into a flowing and dynamic sequence, always incorporating the cultivation of awareness, physical alignment and breath. The classes will be suitable for all levels and yoga experience.
There will be time set aside in the day to explore and take in the stunning beauty of the surroundings. The group will meet again in the late afternoon for a second yoga session which will be a more gentle class for one and a half hours. Classes will begin on the morning of Monday 4 October and there will be one yoga-free day during the week.
Sleeping in a comfortable spacious nomadic yurt, from which you can roll back the roof to view the night stars, practising yoga in a beautiful outdoor shala, swimming in a natural stone pool and eating truly delicious vegetarian food, you cannot leave here feeling anything but refreshed, rejuvenated and deeply relaxed.
Lara Stapleton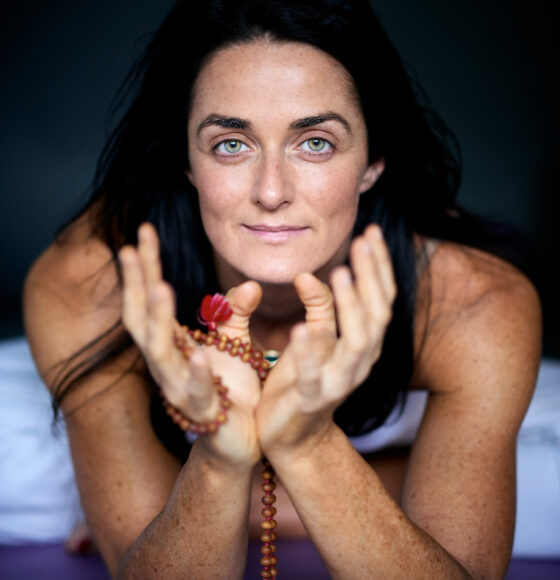 "By the practice of meditation" the master said "you will find that you are carrying within your heart a portable paradise" Paramahansa Yogananda.
Lara Stapleton is a truly nurturing and attentive Scaravelli inspired and Hatha Yoga teacher with extensive training and a deep self-practice for over 14 years. This shines through in her teaching as she has a strong intuition of what is going on for each individual in a class. She cares deeply about her students, inspiring and supporting them to develop both on and off the mat.
Her style is gently powerful with special attention on the breath, allowing for growth in ones own internal awareness and awakening the spine, creating flowing wave-like movements and natural rhythms as well as working deeply from the ground up.
Her classes allow you to work profoundly from the inside out on individual areas of resistance, injury, deep emotional blockages and alignment with grace and softness. Lara puts her sensitivity as a teacher down to a strong one-on-one approach: "I'm able to adapt yoga to the individual rather than the individual to yoga".
Lara's philosophy and teachings are inspired by the spirit and practice of moving into stillness, to experience your true being. Her work and practice have been greatly enthused by her teacher John Stirk. Lara's areas of speciality are spinal rehabilitation as well as being a trained Aromatherapist.
Costs
Sharing a triple yurt £675
Sharing a twin or double yurt £725
Single occupancy yurt £850
All prices are per person
Includes:
Accommodation
Three delicious meals each day
Daily meditation and yoga classes (apart from one yoga-free day)
Not included:
Flights, transfers and excursions
A 50% non-refundable deposit is required on booking and the balance is due 6 weeks before you travel.
For more information: Telephone: +44(0)20 7733 2996 or email info@yoasyogaretreats.com
Or to find out more visit the Yoga on a Shoestring website:
A yoga retreat on the turquoise coast : YOAS – Yoga Retreats (yoasyogaretreats.com)