Ashtanga Vinyasa Yoga with Restorative Yoga with Ebru Evrim
16 May - 23 May 2022
Ebru's passion is in the study of the balance between the physical, mental and spiritual aspects of the human body as it relates to our everyday modern lives. Along with awareness of yoga's health benefits to an increasingly wide audience, came the challenge of preventing injury. Trained in both yoga and pilates, Ebru blends her pilates knowledge with yoga, minimising the chance of injury and maximising health benefits. She is delighted to return again to Huzur Vadisi and welcomes all levels of yoga experience.
Sample Programme for Ebru's retreat:
07.00-07.45 Chanting- Pranayama – Meditation
08.00-09.30 Yoga
09.30-11.00 Breakfast
11.30-13.30 Free time
13.30-14.30 Lunch
15.00-16.30 Free time
16.30-18.00 Yoga Workshop
19:30 Dinner followed by free time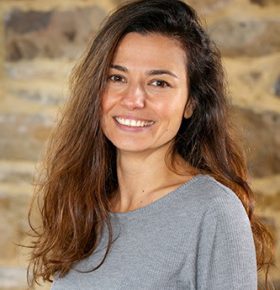 Ebru is the founder of the Ebru Evrim Yoga Pilates Studio in Skipton, Yorkshire.
Her yoga journey began with meditative Raj yoga practice at Brahma Kumaris in her native Istanbul to help deal with the stresses and strains of her career in design and advertising. She went on to complete a 200-hour intensive teacher training in Ashtanga Vinyasa/Hatha Yoga with Lalit Kumar at the Himalaya Yoga Valley in Goa. Her early classical Pilates teaching was consolidated with the scientific Polestar Mat and Comprehensive Pilates teacher training course in Leeds with Claire Sparrow. She also completed Relax and Renew Restorative Teacher Training with Judith Lasater, who studied with B. K. S. Iyengar in India and the United States.