Battersea Yoga Retreat with Angus Ford-Robertson
25 Jul - 01 Aug 2022
This will be a very special week of yoga and meditation – with joy, healing, massage and playfulness as standard!
Angus has taught at Huzur Vadisi on three previous occasions- he describes it as 'absolutely heavenly, essentially 5-star Barefoot Glamping in the most gorgeous, fully kitted-out yurts in a valley of olive trees. The stunning nature, the gentle people, the delicious food, the tranquil swimming pool, the impeccable weather… and the welcome, are all legendary.'
Schedule
A typical day can look like this:
8am Wake and juice / light breakfast
9 – 10.45am Hatha Yoga Class
11am Delicious Brunch al fresco – incredible Turkish food!
12 – 5pm Time to relax, swim, explore the area, take a Turkish bath, pootle in the local markets and more.
5 – 6.30pm. Evening class – variety of classes from meditation, somatic movement, bioenergetics, and ecstatic dance
7pm Dinner – together as group
9pm Social – bonfire and more…
On Thursday there is no yoga. We will have a day on a large Turkish gulet sailing along the stunning coast – with a stop for swimming / snorkelling and lunch.
About Angus
Angus began teaching meditation in 1999 when he was invited to teach in UK Prisons by the Prison Phoenix Trust. In 2001 he qualified as a Yoga teacher in Canada, trained by the Sivananda Organisation. Since then, he has been a director of the multi award-winning Battersea Yoga Studio in London. He teaches internationally at spiritual centres around the world.
Angus is a counsellor and therapist with nearly 20 years of clinical experience. He holds qualifications in numerous therapeutic disciplines including Clinical Hypnotherapy, Psychosomatic Sexual Therapy, Bioenergetics, Mindfulness and Rosen Bodywork. He specialises in the treatment of stress-related conditions, anxiety, depression, relationship issues and sexual dysfunction. For many years Angus has provided specialist mindfulness courses to the NHS.
Beyond spirituality, motorbikes and exploring distant lands, Angus' other loves include a passion for song-writing and his four children.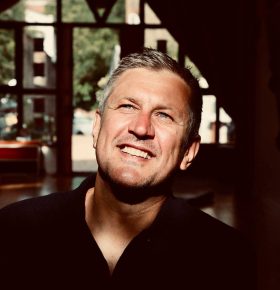 Prices
£895 twin or double shared accommodation
Single supplement £145 (limited availability)
Prices include accommodation, all meals and yoga sessions.
Not included flights, transfers and excursions.
For further information or to make a booking please contact Jane on huzvad@gmail.com