Jackie Dyson at Huzur Vadisi
12 Sep - 19 Sep 2021
Cost (& what's included/not included)
£795 per person based on two sharing
£945 per person for single occupancy
A deposit of £250 is payable with your booking and the balance is due 15th July 2020. 
The cost includes: 7 nights accommodation, all meals, all yoga tuition. 
Not Included: Travel insurance, visa, flights, transfers, excursions, massages.
For further information or to book please email Jackie on: jackie@jackiedyson.co.uk
Mobile: 07880 744370
Join me for a week of yoga in the secluded Turkish Hills. Connect with nature,  swim in a natural stone pool, eat delicious Turkish food and sleep in a yurt. 
Our week here provides an opportunity to take some time out and appreciate the pleasure of simple rustic living in natural surroundings close to the Turquoise coastline. 
Retreat Schedule
07.45 – Morning Yoga practice
09.30 – Breakfast
13.30 – Lunch
17.00 – Afternoon Yoga Practice
19.30 – Dinner
There is an introductory talk at dinner on the evening of your arrival 
Yoga will run from Sunday to Friday with a day off during the week.
Yoga
We will practice in the spacious and fully equipped Yoga Shala at Huzur Vadisi. The practices will be suitable for all levels and abilities. Our morning practice will include postures that stretch, wake up and prepare the body for seated pranayama (breathing practices). The evening practices will be gentler, restorative and include some meditation. 
Mats, bolsters, blocks, belts and blankets are available at the venue so there is no need to bring your own gear – unless if course you want to.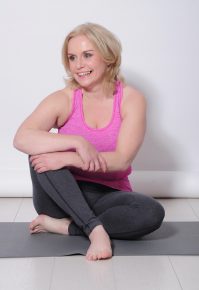 My Yoga 
1. I came to yoga with a very stiff body (it probably had something to do with the fact that I spent a large part of my life sat at a desk). I discovered yoga is not just for bendy beings.
2. The more I learned about yoga, the more I wanted to know and somehow I found myself on a wonderful journey.
3. Becoming a yoga teacher was one of life's serendipitous happenings. I signed up for a teacher training course because I wanted to know more about yoga. Teaching yoga was never part of the plan (I also learned never say never).
4. I completed my Yoga Teacher Training Diploma with the British Wheel of Yoga in 2007, by which time I had a couple of years teaching experience under my belt.
5. I find it quite hard to answer the question 'what style of yoga do you teach?' I've practiced in various traditions and I draw on whatever is appropriate. My one-to-one teacher is Gill Lloyd, who studied for many years with the late T K V Desikachar, and this is probably the style that influences most of my teaching.
6. 'If you can breathe you can do yoga' is one of my favourite yoga quotes (from Sri T. Krishnamacharya). I agree whole heartedly.
7. Yoga is about building strength and flexibility in our physical bodies, but more importantly it's about having strength and flexibility in our approach to life.
8. For many years I've enjoyed going on yoga holidays myself and now I love taking groups of people away to far-flung places to do yoga.
9. My yoga journey is never ending. I continue to be mentored by a one-to-one teacher, I'm inspired by my own personal practice and I am constantly doing further training, study and personal development.