Release, resolve and re-centre with Jo Fellows
04 Jul - 11 Jul 2022
Prices
£650 per person sharing twin/double
£725 single occupancy
Includes all yoga, workshops, accommodation and food but not flights, transfers or excursions.
To book please contact Jane on huzvad@gmail.com
Yoga to heal and not to harm
Jo offers a deeper, more mindful practice – one that can truly transform your body, mind, and life! Go above and beyond mere exercise routines. With Jo's unique approach to yoga, each student can begin his or her own transformation process. She offers a more heart-centered Yoga, Meditation and Paranyama practice that's a great antidote to stress. It will help you find peace of mind and well-being.
Through disciplines including asana (postures), pranayama (breathing techniques) and meditation, alongside practices to encourage healthy prana, or life force, we will work to purify the body and expand the consciousness.
Jo has previously run retreats in Portugal and at private locations in the Cotswolds.
Schedule
The days will typically begin with an optional silent, mindful walk in nature, followed by an active (Hatha) yoga class, meditation and reflection. Breakfast will be served mid-morning, after which there's free time to enjoy the location, read a book or enjoy a sound healing, reiki or massage treatment. After lunch – a delicious spread of vegetarian, Mediterranean food – there's further time to relax, be in nature or enjoy treatments. We come together again for a yin yoga practice in the early evening before a delicious vegetarian supper made with love and a wealth of local produce. On the final evening we'll enjoy a sound meditation after supper.
One afternoon (Thursday or Friday, depending on the weather), there'll be an optional boat trip (which we would recommend) around the beautiful bay of Fethiye, anchoring in a quiet cove for lunch and swimming. The local village of Gocek which is only a 20 minute taxi ride away has a pretty marina with shops, little bars and restaurants, providing all amenities. Massage treatments, as well as sound healing and reiki treatments are available throughout your stay. Payments are made directly to your therapist.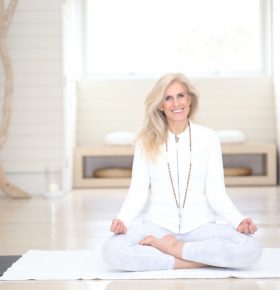 Jo is an Internationally qualified Advanced Yoga instructor (Yoga Alliance International) and Meditation teacher (BSoM), Reiki Master/Teacher and Sound Healer (Peter Hess Institute). She teaches Hatha Yoga, Vinyassa Yoga and Yin Yoga, as well as Meditation and Reiki.