Sunshine and Vitality Retreat with Carol Macartney
23 May - 30 May 2022
Your investment
£745 per person shared Yurt
£795 per person Single Yurt
£100 supplement for double bed en-suite cabins
To make your booking a deposit (non-refundable) of £200 is required and the balance payment due six weeks prior to the start date of the retreat.
Please contact Carol for further information or to make a booking.
Carol has been bringing her yoga groups to Huzur Vadisi for nearly twenty years and is a wonderful, joyous and empathetic teacher. She will be offering two practice sessions daily, an early morning practice, to include Meditation, Pranayama rhythms, Kriya's and Asana, as well as Mantras and Celestial Communications. The late afternoon practice will begin with Asana and end with slow rhythm Pranayama and Meditation. We will also have an optional dance session to Mantric Beats.

Carol's programme is deeply regenerating, and for those who are committed to her programme of meditations, purifying pranayama (breathwork), and flowing asanas (postures) the rewards are a deepening sense of peace and joy.  All levels are very welcome, and you can feel completely comfortable if you choose to drop in or out of any part of the programme. This is your time to draw as much as you need from the retreat.

The retreat is open to beginners as well as those with an intermediate practice and non-yoga partners are also welcome.

There will be a free day to enjoy the famous Huzur Vadisi boat trip and on one afternoon an opportunity to visit the charming small yachting town of Gocek for a Turkish bath and shopping.

There will be plenty of relaxation time for you to enjoy sitting by the pool, swinging in hammocks, or walking in the forest.

The balance of practice time and down time will leave you feeling rejuvenated, relaxed and wondering why you have never done this before
Carol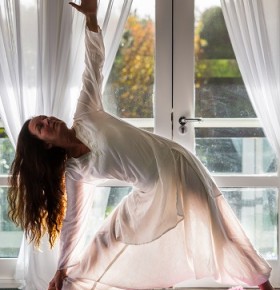 Carol's journey began with training in the Sivananda style of yoga and thereafter meandered through the paths of Scaravelli, Ashtanga, Yin and Vinyasa, culminating in meeting her teacher Clive Sheridan, who over the last fifteen years has embodied and transmitted the teaching of Advaita Vedanta. She trained in 2014 in Shakti Dance with Sara Olivier (Avtar Kaur), the yoga of Dance.
You can expect a fusion of Asana, Pranayama, Meditation, Dance, Mantra, Mudras, readings and quotes, but more than anything a sense of open heartedness, joy and love.
Please contact Carol for further information or to make a booking.