Sweet Summer Sangha with Carol Macartney
30 May - 06 Jun 2022
Prices
£650 per person sharing twin/double
£725 single occupancy
Includes all yoga, workshops, accommodation and food but not flights, transfers or excursions.
For enquiries or to make a booking please contact Jane at huzvad@gmail.com 
A retreat to open the heart and mind.
Carol's friendship and connection to Huzur Vadisi spans almost twenty years. She says 'This enchanting corner of heaven was created from the heart, over many years and experiences and fashioned with love.' The retreat is open to all who wish to deepen their practice, let go of the mind, open the heart and have some fun.
There will be two daily sessions, one in the early morning and one late afternoon/early evening, with one free day for the stunning boat trip, where we are given the opportunity to explore some of the many quiet coves along the Turquoise coast of Turkey. Swimming, snorkelling and enjoying a delicious lunch whilst out at sea. There will also be a free afternoon to venture into Gocek for shopping, where there is a marina, shops, bars and a Hamam (Turkish bath)
The practice sessions will offer participants a deep journey through the mind and into the heart, through a magic potion of meditation, pranayama, asana, mantra and dance.
If you are seeking authentic and inspirational teaching, a peaceful and delightful venue, incredibly delicious food and a week of letting go, laughter and love, then please don't hesitate to book this week. It just might simply be the best investment you have ever made in yourself.
Everyone is welcome, whether you are beginning on your path or have years of experience because we all inspire each other.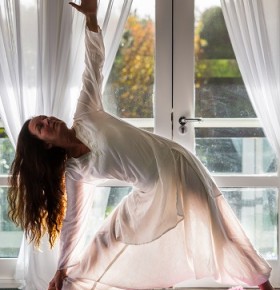 Carol
Carol's journey began with training in the Sivananda style of yoga and thereafter meandered through the paths of Scaravelli, Ashtanga, Yin and Vinyasa, culminating in meeting her teacher Clive Sheridan, who over the last fifteen years has embodied and transmitted the teaching of Advaita Vedanta. She trained in 2014 in Shakti Dance with Sara Olivier (Avtar Kaur), the yoga of Dance.
You can expect a fusion of Asana, Pranayama, Meditation, Dance, Mantra, Mudras, readings and quotes, but more than anything a sense of open heartedness, joy and love.