Yin Yang Yoga With Tanfer Taka
30 May - 06 Jun 2021
Your investment
As owner of Huzur Vadisi, yoga teacher Tanfer is able offer you the very special price of £595 pp for single accommodation in a beautiful yurt.
A superb opportunity to experience a fabulous week at one of the world's longest established and loveliest retreat centres with an experienced teacher at a very affordable price!
The price includes:
your accommodation
three delicious meals a day (see The Huzur Vadisi Cookbook on Amazon)
two daily classes of Yin Yang Yoga
the legendary Huzur Vadisi boat trip in and around the famous twelve islands of Gocek Bay
free day trip to the local beach
morning sunrise guided walk
Not included, flights, transfers and other day trips.
"What a joy it was to return to Huzur Vadisi and to find it even better than before……The food was sensational and much of it home grown. The yurts are a delight, the yoga shala just beautiful…. Tanfer the owner is just one of the most gentle, kind and considerate man."           Tripadvisor June 2019
For further information or to book your place please email Jane on huzvad@gmail.com
You will have the opportunity to deeply relax and restore your inner balance, vital energy and at the same time increase your awareness of your body and its ability though the benefits of yoga.
In the morning Tanfer will lead a yoga session, with warming up sequences followed by sun salutations and into a dynamic yang class of Asanas. The morning classes will work with alignment based instruction combined with correct breathing.  Afternoon classes will be restorative Yin Yoga. The culmination of each class will be savasana relaxation.
The retreat will be conducted in English and all levels of yoga are welcome.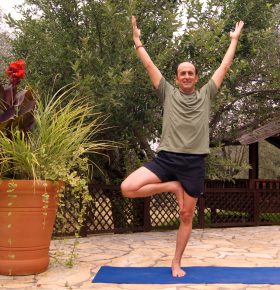 Tanfer
Tanfer is one of the founders of Huzur Vadisi and has practiced yoga in many forms for over 20 years with world-renowned teachers at both Huzur Vadisi and in the UK. A graduate of The Yoga Academy's Teaching Training Course with Simon Low and the British Wheel of Yoga (BWY), he has been teaching for nearly ten years in Turkey and Scotland. His style is based on the teaching of Sri T. Krishnamacharya and T.K.V. Desikachar, which places the emphasis on the individual in yoga. Tanfer blends many classic yoga postures in dynamic and gentle forms and delivers energetic and restorative classes to meet each person's individual needs.
For further information or to book your place please email Jane on huzvad@gmail.com