Yoga with Simon Low
19 Jun - 26 Jun 2023
We are delighted to welcome Simon back to Huzur Vadisi. Our long-time friend and renowned international yoga teacher, he has been running retreats at Huzur Vadisi for 27 years. He loves the mountain seclusion, beautiful unspoilt natural surroundings, fantastic food and great walks, combined with trips to nearby chic, laid-back Göcek to enjoy the famous Huzur Vadisi boat trip around the beautiful azure bays and to explore the charming shops, seaside bars and restaurants…the best of both worlds!
Simon is renowned internationally as a dedicated and inspired teacher. You will be transformed in a week of twice daily yoga sessions in which Simon will guide you through every aspect of yoga to integrate body, mind and spirit. Simon is assisted at his yoga events by Yoga Academy teachers, ensuring that all students are carefully guided & supported throughout his classes by experienced teachers. Classes take place in the mornings and late afternoon in the beautiful, peaceful yoga shala, where often the only sound to be heard is the breeze in the olive trees, a shepherd's flute or the tinkling of goat bells in the surrounding hills! There will be one free afternoon and one free morning during the week. Included in the price of the holiday is a full day boat trip around the beautiful bay of Göcek, anchoring in quiet coves for lunch, tea, swimming, and a visit from the ice cream boat!
Massage – An excellent massage therapist is available throughout your stay, payments to be made directly to the therapist.
Simon Low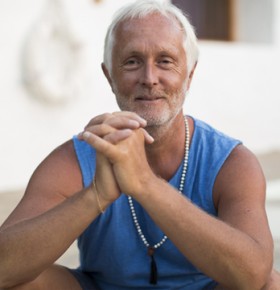 Teaching yoga internationally for over 30 years Simon has developed a unique and personal teaching style, keeping classes diverse, focused & fun. Simon is principal and founder of The Yoga Academy and co-founder and original director of Triyoga in London. Originally trained in the USA with Dr Larry Payne at Samata in Los Angeles, where he lived for 10 years, Simon has studied & explored a wide variety of physical, energetic & spiritual practices, including Iyengar, Astanga Vinyasa, Okido & Viniyoga, Chi Kung, The Alexander Technique, Pilates, Macrobiotics, & Chinese Medicine, effectively bringing together the essential elements of these sources of wisdom & healing into his teaching. Simon runs teacher trainings, weekend residentials, workshops & yoga holidays internationally throughout the year. He has a DVD 'Yin & Yang Yoga with Simon Low' and is a guest writer for 'Ask the Experts' in the Observer newspaper and has been covered in or has contributed to numerous national and local newspaper and magazine articles
Prices
€1195  in twin or triple share accommodation
€1485 Single
En-suite supplement £50 (limited availability)
If you are coming to the retreat by yourself, you are welcome to share a yurt with another solo guest (shared rate) or book single accommodation with supplement. Those coming with friends have the option of twin or triple share.
Prices include – Accommodation on a twin or triple share basis in beautiful yurts (singles and limited en-suite accommodation available at extra supplement subject to availability), all delicious vegetarian meals and all yoga tuition.
Not included – The price does not include flights, transfers, or travel insurance. (Insurance is a condition of booking)
Payment terms – A non-refundable 50% deposit is required to confirm your place. The balance is due no less than 6 weeks prior to the event. You may also pay in full at the time of booking if you prefer. Bookings made less than 6 weeks prior to the event must be paid in full.
Covid Insurance
Deposits and payments will be refunded should Covid travel restrictions be re- introduced at the time of the retreat. Otherwise, to cover yourself against Covid infection or self-isolation at the time of travel you are advised to check with your travel insurance. Most companies will cover this as well as the usual reasons for cancellations, as no refunds will be given. (Unless as mentioned official Covid travel bans are re-introduced)
If you have any questions or would like to reserve your place, please visit:
Huzur Vadisi, Turkey Retreat — Simon Low & The Yoga Academy