'Awakening the Soul' with Eileen Jackson in Iceland
15 Nov - 20 Nov 2021
INVESTMENT
£1799 per person in a shared cabin – you will have your own room either upstairs or downstairs and share the bathroom with one other.
Non Yoga Partners Welcome
INVESTMENT INCLUDES – Accommodation – own room / shared bathroom
Food – All meals are included at the retreat centre – breakfast buffet, lunch / packed lunch, snacks 3 course dinner/ buffet, vegetarian , vegan and special diets catered for.
Refreshments during the day fruit , herbal teas etc.
Twice daily yoga – including Vinyasa Flow , Yin , guided meditation, chanting and yoga Nidra.
Use of hot tub & sauna.
COST EXCLUDES
Insurance – it is the responsibility of each individual to ensure that you are covered by travel insurance including cancellation, Health etc.
Flights to and from Reykjavik
Domestic fights from Reykjavik to Akureyri return.
Accommodation in Reykjavik Sunday evening ( 1st November )
Day excursions & transport to day excursions
Contact Eileen for further information on: info@eileensyogawellbeing.co.uk
Telephone: 07751 184 587
YOGA
Our daily yoga will take place in the beautiful shala which is very spacious and offers views across the valley and towards the glacier. Our days will be blessed in this magical location as we take time to connect with Mind, Body & Soul. We will awaken the energies & senses with early morning meditation and chanting followed by a soft flowing practice.
The evenings will be dedicated to a deeper connective Yin practice & Nidra as we nourish our beings in the nectar of our surroundings. At a deep level we will give time to recognise the significance of the heart and soul. A transformational enriched retreat to be cherished forever.
EXCURSIONS
Whale Watching
Myvatn Geothermal Baths & Godafoss Waterfall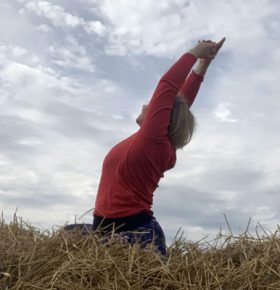 Yoga in so many ways has been a life saver a constant, consistent support in my life through good and bad. I awakened to the importance of living life in the present moment, enjoying each and every breathing second being grateful for each and every day. The day I decided to live my dreams and not just dream them my life changed.
No matter how small or large If I can share something that makes an improvement to someone's health and well-being and life then that is what I am all about.
Life is a maze of challenges, stress, anxiety, tension and lots more. So many things can restrict us ,however, only if we let it become this. Indeed Life is a gift, each and everyday a blessing to breathe and be alive, a life to be cherished & lived which is full of opportunities and endless possibilities.
The work I do promotes a great sense of freedom supporting everyone to fly as freely as possible with openness , lightness and space. Realising the many possibilities, Feeling that awakening and connection within that has such freedom and grace. Living the life you love and loving the life you live.
Come and flow with me I very much look forward to meeting you!