Carol Macartney's Icelandic Adventure
08 Nov - 13 Nov 2021
Your Investment
Single room in shared apartment (with shared bathroom)
Five nights Accommodation and Food £1325.00 (£265 pp per night)
Teaching fee £300 pp
Total £1625.00pp
A deposit (non-refundable) of £400 is required to book your place on this retreat and balance payments to be made no later than the end of August 2021
Non Yoga Partners Welcome
Included
Accommodation, all tuition, all meals: breakfast buffet, lunch/packed lunch, snacks, 3-course dinners/buffet. Vegetarian, vegan and special diets catered for.
Exclusive use of fully equipped yoga shala, hot tub, sauna, dining rooms and lounge areas
Not Included:
Flights, transfers, transportation to and from activities & activities
For further information or to book your place contact Carol on carolmacartneyyoga@gmail.com
or visit her website here: www.carolmacartneyyoga.co.uk
This retreat will offer the intrepid warrior yogi the rare opportunity to experience a deep physical and spiritual journey, through the combined transmission of teaching that flows through this sparkling Yogini, in one of the last unspoiled environments on planet earth.
Carol will create a perfect balance for the nomadic yogi to enjoy the deep aspects of the practice, through a synergy of morning Sadhana (meditation, prayer, pranayama, asana and mantra) and evening meditations and asana, whilst exploring the wilderness and delights that the incredible wild North of Iceland has to offer.
Be prepared to have the retreat of a lifetime!!!
"There  will never be another moment like this"
'I have rarely been so moved by a location. The minute I arrived I felt my consciousness expand as I tuned in to the complete silence, gazed at the wild mountainsides and breathed in the pure prana. I actually was moved to tears as I felt my heart expand with joy. An amazing and deeply touching experience.' Jane (Huzur Vadisi Yoga Retreats)
A unique and exceptional adventure to experience the wilderness, in one of the world's last unspoiled environments, whilst enjoying the delights of a yoga retreat.
The retreat space has been created by Anna, a yoga teacher, who's family have both owned and farmed the land for generations, living by the natural cycles of the seasons, gathering and harvesting berries and mushrooms and assisting the community in bringing the sheep down from the mountains at the end of each Summer. Situated on a remote ancient sheep farm, on Iceland's northern Troll peninsula nestled at the foot of the Skíðadalur glacier.
Optional Day Trips 
Myvatn Day Trip & Geothermal Baths. This trip is about a 1.5hr drive one way and beautiful. We will stop on the way to see Godafoss Waterfall. After that we will spend time exploring the volcanic landscape, steam vents, mud pools and walk amongst the lava fields finishing off with a long hot soak in the Geothermal pools.
Whale Watching. The whale watching trip is truly a fun sea adventure you won't forget. The whale watching takes place in the picturesque landscape of Eyjafjordur followed by sea fishing inside the majestic mountains of Tröllaskagi, just short of the Arctic Circle. We end the day with a barbecue of the freshly caught fish.
You have an exceptionally good chance to encounter the great humpback whale and often we spot white-beaked dolphins, minke whales, the small harbor porpoises and sometimes even the majestic blue whale, fin whales or killer whales.
Retreat Programme
Day 1 – Depart Reykjavik on 11:05 flight
Arrive Akureyri 12:00
Transfer 12:20
Arrive at Lodge 13:20
Lunch at 14:00
Yoga and Meditation 18.00 – 19.30
Dinner at 19.45
Day 2 – Morning Sadhana 07.00 – 9am
Breakfast 9:15
Depart at 12:00 for half day whale watching trip with packed lunch.
Return Home 17.00
Evening Yoga and Meditation 18.00 – 19.30
Dinner 19.45
Day 3 -Morning Sadhana 07.00 – 9. 00
Breakfast 9:15
Optional Guided Walk
Lunch 13.30
Evening Yoga and Meditation 18.00 – 19.30
Dinner 19.30
Day 4 – Breakfast 8:00
9:00 Full day trip to Myvatn & Geo Thermal Baths
Arrive Home 19.00
Dinner 19.30
Day 5 -Morning Sadhana 07.00 – 9. 00
Breakfast 9:15
Free Time
Lunch 13.30
Evening Yoga and Meditation 18.00 – 19.30
Dinner 19.30
Day 6 – Morning Sadhana  7.30 – 9.00am
Breakfast 9.15
Depart at 11:30
Arrive at Akureyri Airport 12:30
Depart 13:55
Arrive Reykjavik 14:40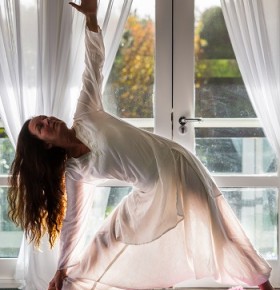 It is my deepest wish to impart everything I have learned over the years on my yoga path and indeed my journey through this lifetime as a Teacher a Mother and a Student. There have been so many wonderful teachers bestowing their gifts of wisdom and truth along the way and after twenty three years of practice I now realise that we are all conduits and transmitters of the truth in our own unique way.
I thank you the student for allowing me to continue to share the teachings through the weekly classes, workshops and retreats. Without you, none of this would be possible.
The style of yoga I teach is a synergy between myself and all of the above, but my journey began with my training in the Sivananda style of yoga and thereafter meandered through the paths of Scaravelli, Ashtanga, Yin and Vinyasa. Most importantly culminating in the meeting of my teacher over the last fifteen years, Clive Sheridan who embodies and transmits the teaching of Advaita Vedanta. I trained in 2014 in Shakti Dance with the beautiful Sara Olivier (Avtar Kaur), the yoga of Dance.
If you are looking to attend any of my offerings be it a retreat, a workshop or a weekly class, you can expect a fusion of Asana, Pranayama, Meditation, Dance, Mantra, Mudras, readings and quotes, but more than anything a sense of open heartedness, joy and love.
Everyone is welcome, whether you are beginning on your path or have years of experience because we all inspire each other.