Yoga, Cooking, Wine, Gelato and Culture. A Retreat in Rome with Marina Wallace
24 Sep - 29 Sep 2020
Price Five nights accommodation
£680 Two people sharing
£540 Three people sharing
£750 Single room
£850 Single en-suite
Plus €90 contribution to food shopping payable on arrival for cooking together as a mindful activity
* Due to Covid-19 recommendations shared rooms are only available for family members. Single rooms are available at a discounted rate.
* Booking payments will be ring-fenced and will be returnable should the retreat be cancelled due to changes in Covid-19 restrictions.
For further information please contact Jane at huzvad@gmail.com
Immerse yourself in yoga and Italian culture and enjoy la dolce vita with Marina on this special retreat
Villa il Cardinale is Marina's family home. As a yoga teacher, she loves to provide the right ambience and support for a retreat. She teaches yoga on the retreat, but is also delighted to act as your host, along with her wonderful assistant Stefania and the staff of Villa il Cardinale.
Yoga There will be three sessions daily, a meditation and pranayama session early in the morning, a late morning yoga session before lunch, and a further yoga session late afternoon following a satsang dialogue.
Cooking as a mindful activity The group will cook together with local ingredients turning this into a mindful activity as well as the discovery of local ingredients and traditional Italian recipes. Everyone will be able to take part, even if you are not particularly skilled at cooking. Sharing will be key. Each meal will be timed so as to be integral to the practice of yoga. Allergies or food intolerances will be catered for. Meals will be vegetarian and/or vegan. Participants will contribute €90 each to food and drink costs and are invited to bring their favourite recipes.
Wine   This retreat will include wine as a fundamental part of Italian history and culture, and a part of a healthy social exchange. We will visit the best wine merchants in Rome and will taste wine whilst learning about the history of Italian wines.
Ice cream   Marina will take you to the taste the best ice cream in Rome. At one of the most creative ice cream parlours in Italy, you will have the opportunity to sample and learn about the wonders of Italian gelato!
Cultural Excursions As an art curator, Marina is delighted to offer visits to sites in Rome or to artisan workshops. Sunday is excursion day when the city is free of traffic. The cultural programme can be tailored to guests' particular interests – happy to receive suggestions prior to your arrival. The programme typically includes the Forum, the old Jewish Quarter and a museum. Lunch is at a restaurant in the centre of Rome, perhaps on the Isola Tiberina, an island in the Tiber. Transport to the centre of Rome will cost each guest €20 return. Lunch circa €30 and a museum ticket €10.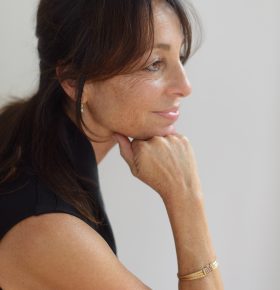 Trained initially in contemporary dance, and working professionally as a teacher and art curator, Marina began to combine her dance with yoga practice. Iyengar yoga was her first love, together with Hatha Yoga. She practiced for several years at the Iyengar Institute in Maida Vale. She later trained as a yoga teacher at Yoga Campus, London. She teaches Hatha Yoga with a base of Iyengar and elements of other styles. A strong influence on her teaching has been Aki Omori, a yoga teacher and somatic movement therapist and educator, who studied for many years with Clive Sheridan, Donna Farhi and Erich Schiffmann. From Aki, Marina learned to take a deep approach to yoga in its physical expression, paying attention to posture, habitual movement and skeletal structure. Susanne Lahusen from Yoga Campus has also had a profound influence on Marina's teaching, developing her interest in anatomy, physiology and sequencing. In Marina's academic work she has also investigated the neurosciences and molecular biology, all of which has contributed to a further interest in the deeper structure of the body and mind.
Marina pays particular attention to her students' needs and specificities, offering yoga at different levels, according to ability. She is very happy to work with beginners and advanced practitioners in the same group, calibrating the practice to ensure that poses are absorbed with greater intensity.