Yoga in Rome with Marina Wallace
02 Jun - 09 Jun 2022
Price:
Twin/double shared room with shared bathroom £745pp
Twin/double shared room en-suite £795
Single occupancy with shared bathroom £845
Single occupancy en-suite £895
For further information or to make your booking please contact Jane at huzvad@gmail.com
The beautiful historic villa with its gardens is Marina's family home, only 8 kms from the centre of Rome. As a yoga teacher, she loves to provide the right ambience and support for a retreat and is delighted to act as your teacher and host, along with her wonderful assistant Stefania and the staff at the villa.
Yoga There will be three sessions daily, apart from on excursion day. An early meditation and pranayama session before breakfast, a late morning yoga session before lunch, and a further yoga session early evening prior to dinner, leaving time in the afternoons to laze, sunbathe or swim.
Meals Experience a wide variety of delicious Italian vegetarian/vegan dishes. Wine will be available as a fundamental part of the Italian experience.
Cultural Excursion In her role as art curator, Marina is delighted to offer visits to sites in Rome or to artisan workshops. Sunday is excursion day when the city is free of traffic. The cultural programme can be tailored to guests' particular interests. Typically the day would include the Forum, the old Jewish Quarter and a museum. Lunch is at a restaurant on the Isola Tiberina, an island in the Tiber. Transport to the centre of Rome will cost each guest €20 return. Lunch circa €30 and a museum ticket €10.
Marina Wallace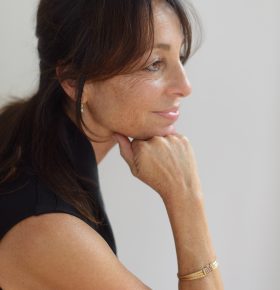 About Marina and her teaching
Trained initially in contemporary dance, and working professionally as a teacher and art curator, Marina began to combine her dance with yoga practice. Iyengar yoga was her first love, together with Hatha Yoga. She practiced for several years at the Iyengar Institute in Maida Vale. She later trained as a yoga teacher at Yoga Campus, London. She teaches Hatha Yoga with a base of Iyengar and elements of other styles. A strong influence on her teaching has been Aki Omori, a yoga teacher and somatic movement therapist and educator, who studied for many years with Clive Sheridan, Donna Farhi and Erich Schiffmann. From Aki, Marina learned to take a deep approach to yoga in its physical expression, paying attention to posture, habitual movement and skeletal structure. Susanne Lahusen from Yoga Campus has also had a profound influence on Marina's teaching, developing her interest in anatomy, physiology and sequencing. In Marina's academic work she has also investigated the neurosciences and molecular biology, all of which has contributed to a further interest in the deeper structure of the body and mind.
Marina pays particular attention to her students' needs and specificities, offering yoga at different levels, according to ability. She is very happy to work with beginners and advanced practitioners in the same group, calibrating the practice to ensure that poses are absorbed with greater intensity.
For further information or to make your booking please contact Jane at huzvad@gmail.com