Emma Spencer-Goodier 3 Night Retreat in Wales
01 Apr - 04 Apr 2022
THE PRICE:
Single occupancy, en-suite – £630.
Twin occupancy, en-suite – £570.
Triple occupancy, en-suite – £530.
Non yoga-ing partners can subtract £50 from each price.
To make an enquiry or to book please contact Emma on iowyogawithemma@gmail.com
Tel: 07880 558599
I am delighted to be working once again with my friends from Huzur Vadisi, a yoga collaboration that goes back to 2003 when I did my first retreat in Turkey with them. Now in Wales the team is operating from a farmstead set deep in the glorious rural setting of Wales.
THE YOGA : I offer a yoga programme to provide participants with space just to be, and through the practice of asana, pranayama (breath work) and meditation, drop out of the hurly burly and become more grounded and awake to the delights everyday has to offer. Ideal for those of you who are curious about delving deeper into your yoga practice, these immersions are fine for everyone except the complete beginner. My background in Sivananda, Iyengar and Ashtanga yoga has cultivated a style that is flowing, clear and relaxing. As a lover of words and a teller of tales, my teaching is enriched with yoga philosophy, poetry and myths. Three nights allows for a real opportunity to unwind, recharge and revitalise. The spacious and warm yoga room has under-floor heating and a log-burning stove. it is fully equipped with mats, bolsters, blocks and belts.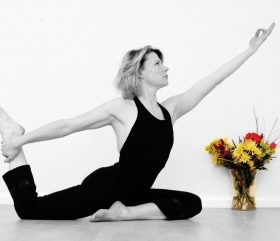 Emma: I am a keeper of words and a lover of stories, philosophy and poetry. My yoga offers clarity, suggests precision, cultivates strength whilst suggesting softness. Mornings will be dynamic and flowing and evenings restorative. I am a senior yoga teacher with the Yoga Alliance, I am a teacher of teachers and my quest is for sensitivity and greater awareness, my guides are integrity and joy. A keen wild swimmer and triathlete I am very excited by the lake swimming at this venue and I will be enjoying a run into the hills on the second mornings should you wish to join me.