Happiness in the Hills with Julie Robinson
22 Apr - 26 Apr 2022
Pricing
TBC
If you have any further questions or would like to book a place, please email or call me.
✎ julie@yogalighthouse.co.uk    ☏ 0771 8875614
Your booking cannot be confirmed until I receive your booking form.
A deposit of £250 will reserve your place with the balance due 8 weeks before departure. I can accept cheque or bank transfer.
The deposit is non refundable at any time should you decide to cancel.
If you cancel within 6 weeks of the retreat, I will be unable to make any refund and the full cost will be due.
Please note, I always seek to act in good faith in my description of the facilities offered but rely on information given to me by the owners regarding their venue.
The Yoga – What to expect!
Our time together will be spent exploring the happiness supporting qualities of yoga. There is lots of current research showing that yoga helps lift mood, reduce stress and anxiety and promote overall physical and mental health and wellbeing. But how?
Join me to explore…. just what's going on when we hit the yoga mat. From asana and pranayama, mudra and meditation, bandha and mantra… to savasana and yoga nidra. These wonderful practices can help us to feel happier!
During the course of the 4 days we will enjoy 10 yoga sessions (around 20 hours of yoga in total). Weather dependent, sessions may be indoors or outdoors in nature!
We will enjoy 2 varied practices each day, early morning and late afternoon.
I welcome all interested yogis to join me on this 4 day retreat. The yoga will be accessible to all yogi levels including complete beginners. All I ask is that you bring an open mind and a willingness to participate, share and learn.
Non yogi partners are welcome to join the retreat and spend time exploring the area if yoga is not their thing!
Please note. This retreat is not suitable for people who are only interested in strong physical yoga as a variety of other yoga practices will be included.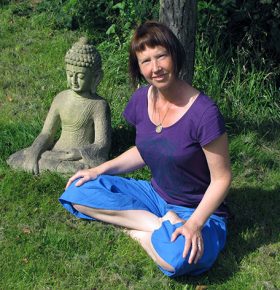 I am a full time yoga teacher teaching in Grantham, Retford, Worksop and Nottingham in a variety of settings, large classes, small groups, workplaces and one to one tuition. I also offer several yoga weekend and week-long retreats each year.
Having practiced yoga initially as a student for around 10 years, my love of the voyage of discovery and unfolding led me to my first Integral Hatha Yoga Teacher training, qualifying in 2004.
After teaching part time for a while I went on to take the British Wheel of Yoga Diploma qualifying in 2010 . In addition I am qualified to teach Yin Yoga following training with Norman Blair and offer Yoga Therapy for Insomnia in the Super Sleep Method developed by Lisa Sanfilippo and The Minded Institute.
Having completed specific training with Yoga Bugs and the Special Yoga Centre, I am qualified to teach yoga to children and students with special needs.
I hold an ITEC Diploma in Anatomy and Physiology and have studied anatomy in greater depth with the renowned anatomist and yoga teacher, Lesley Kaminoff. I am also certified in Emergency First Aid.
In 2018 I began my Yoga Therapist training with The Minded Institute.
If you have any further questions or would like to book a place, please email or call me.
✎ julie@yogalighthouse.co.uk    ☏ 0771 8875614