The 'Rainbow Rising' Retreat with Julie Robinson
22 Apr - 26 Apr 2022
Pricing
£725 – per person – twin share (for family members/ bubble)
£785 – single
Includes a £150 deposit (£50 of which is a non-refundable administrative deposit)
Cost includes accommodation for 4 nights, meals and yoga as specified. Transfer costs are not included.
Booking and Cancellation Terms
If you have any further questions or would like to book a place, please email or call Julie.
✎ yogawithjulie@gmail.com    ☏ 0771 8875614
Your booking cannot be confirmed until I receive your booking form.
The deposit to secure your place is £150. The balance is then due 8 weeks before departure by cheque or bank transfer.
 If you wish to book please be aware that this deposit is non refundable at any time should you cancel.
Cancellation – If you cancel within 4 weeks of the retreat, Julie will be unable to make any refund and the full cost will be due. If Julie or the venue cancel due to Covid restrictions then a full refund will be made.
Julie will return for the 4th time to the very lovely Garth Barns. All curious yogis are welcome to join her at this 'home from home' retreat where a warm welcome awaits from hosts Jane and Rowan and delicious vegetarian or vegan meals from superb chef Sarah.
Join Julie for 4 leisurely spring days nourishing yourself with yoga, pranayama, meditation and relaxation practices, walking, reading… and perhaps even a little wild swimming.
The Yoga
The subtle energy body is said to hold the secret to optimal physical and emotional wellbeing, yet it remains on many levels, unseen, disregarded and an esoteric mystery.
When we are unwell or feel 'out of balance' our tendency may more commonly be to seek help and explanations from an external source.
Join Julie on this retreat to turn your attention inward and consider the power the subtle energy body holds for you.
Ascending the 'rainbow' of the chakra system we will climb with interest from the feet to the crown and beyond… rising through the radiance of energy towards greater awareness.
During the course of the 4 days, we will enjoy 2 varied practices each full day, early morning and late afternoon.
All interested yogis are welcomed to join Julie, the yoga will be accessible to all yogi levels including complete beginners. All that is asked is to bring an open mind and a willingness to participate, share and learn. Julie's retreats are fun as previous participants will confirm. She says, 'I am so lucky to have students return again and again and find that a warm and welcoming community grows easily in just 4 days. Leave refreshed and a little more 'aware and awake' to the wonders of being human.'
Please note. This retreat is not suitable for people who are only interested in strong physical yoga as a variety of other yoga practices will be included.
Non yogi partners are welcome to join the retreat and spend time exploring the area if yoga is not their thing!
Julie Robinson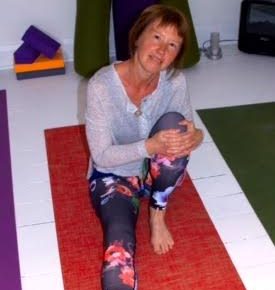 With several thousands of hours of teaching under her belt, Julie offers a warm welcome to all new students and seeks to work with each person to help them understand and enjoy their practice and potential for compassionate and expansive living through their yoga practice. Practicing mindfully and with full awareness gives us a wonderful opportunity to grow and enjoy life.
In her classes she combines asana practice for all levels with pranayama (breath work), mantra and mudra yoga to provide a strong and rounded teaching with a sense of curiosity and fun. Julie offers alternatives if required so that everyone can access the class at their particular level of practice.
Julie has a deep love of yoga which she shares through her teaching.
If you have any further questions or would like to book a place, please email or call Julie.
✎ yogawithjulie@gmail.com    ☏ 0771 8875614