Yoga and Walks with Lizzy Giles
14 Mar - 18 Mar 2022
Your investment: 
£665 single, £625sharing
Includes: 4 nights accommodation in en-suite rooms, yoga, walks, 3 meals a day.
For further information or to make a booking please contact Lizzy on yogawalks@ymail.com
Tel: 07950 573719
Join Lizzy for a midweek break of yoga, relaxation, walking, taking a dip in the wild swimming lake, before warming up in the sauna or round the campfire, and taking time to just be… Mornings will be a more dynamic practice with gentler restorative practice in afternoon/evenings. Classes a balance of asana, pranayama, meditation, chanting and deep relaxation, varied and adapted to suit the needs of the group. Lizzy aims to lead walks on three days also allowing free time to do as you choose.
Throughout the week we will focus on different areas of the body and ways to rebalance body and mind through practicing asana, pranayama, meditation, chanting and deep relaxation. Classes will be varied and adapted to suit the needs of the students.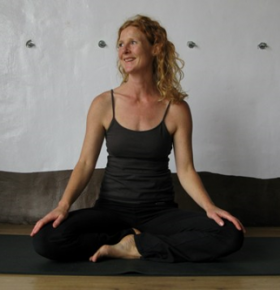 Lizzie has been teaching yoga since 1999. Initially trained in South India at a Sivananda Ashram her teaching has evolved over the years into her own flowing style inspired by many great teachers and students from a wealth of disciplines and physical abilities. Once a professional contemporary dancer, she loves how yoga makes her feel, rapidly changing an agitated state of stress and anxiety, helping to find a calm and balanced centre which she loves to share with others. Lizzy has been teaching yoga holidays across the world since 2002 and each and every one creates unique and beautiful memories.
She began her yoga practice to help balance working long hours in a pressurised office environment. Teaching the physical angle was a natural progression from her career as a dancer. Performing missed the focus on inner balance and subtle energy experienced through yoga. Her teaching style is accessible to beginners and those with more experience, she likes to think that if you chose to, you could follow much of the class with your eyes closed. Her aim is to explain clearly what the body is to do. Through body awareness, focusing the mind on physical sensations, the breath and our own natural rhythm we find union – yoga of the body and mind.
Lizzy also teaches antenatal and postnatal yoga since training with Birthlight and Sitaram and is also a qualified Bowen Technique therapist: a non-invasive treatment using rolling type moves over stress loaded areas of the body which has been known to initiate a healing response for a wide range of ailments or injuries.
For further information or to make a booking please contact Lizzy on yogawalks@ymail.com
Tel: 07950 573719