Vegetarian Holidays Abroad
Food makes an important contribution to the enjoyment of your yoga holiday and the meals at our venues all share the same influences of delicious and healthy cuisine…. fresh, locally sourced and seasonal produce, olive oil, fresh vegetables, salads, pulses, pasta, rice, cheeses, yogurt and egg dishes are served buffet style with plenty of choice, with fruit, muesli, preserves, cheese, eggs, olives and home made bread for breakfast.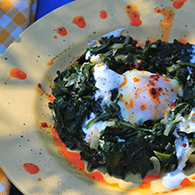 In some cases the produce is grown on site… organic and super fresh, including olives, oil and wine. Vegetarian by default, fish, chicken or meat dishes can be provided once or twice in the week if requested. Some special diets can be accommodated, but please check with us first.

Alcohol
We are happy to provide wine, beer or spirits if you wish to make it part of your yoga holiday, using an honesty bar system. Occasionally teachers prefer your retreat to be alcohol free and will let you know if this is the case.
The Huzur Vadisi Cookbook*
One of the great pleasures of a stay in Turkey is the wonderful food. Guests over the last twenty years have so enjoyed the dishes served from the Huzur Vadisi kitchen that we finally gave in to popular demand and published a cookbook. Turkish cooking is recognised as one of the great cuisines of the world – created by a thousand palace chefs devoted to tempting the Ottoman Sultan's palate.
Our gifted chef, Sevgi, combines this tradition with local village recipes to turn out truly original and delicious Huzur Vadisi food – referred to in Harpers & Queen magazine as 'legendary'.
It can be ordered from Amazon for £12.99

*The original blue covered Huzur Vadisi Cookbook also contains some meat dishes, and can only be bought at one of the venues in Turkey. It is not for sale over the internet.
NB. If you have a copy of the blue covered Huzur Vadisi Cookbook, you will already have the recipes contained in the new vegetarian version.
Contact us for more information on our hatha yoga holidays