Soul Detox Yoga & Meditation holiday with Katrin Heuser & Casimiro Pires
27 Jun - 04 Jul 2022
Prices
SUPER EARLY BIRD – BOOK UNTIL 31 JANUARY 2022!
£645 – place triple Yurt
£695 – place in double/twin Yurt
£795 – place in single Yurt
EARLY BIRD – BOOK UNTIL 30 APRIL 2022!
£695 – place triple Yurt
£745 – place in double/twin Yurt
£845 – place in single Yurt
NORMAL PRICE – AFTER 30 APRIL 2022!
£745 – place triple Yurt
£795 – place in double/twin Yurt
£895 – place in single Yurt
The prices include:
Seven nights accommodation
Three delicious vegetarian meals a day
Five 2h yoga & meditation classes
Five 2h workshops
​Singing under the stars
​Sunset and/or Sunrise Walk
It does not include flights, insurance, massages, airport transfers, other trips and activities.
Info and booking: http://www.hadadithaimassage.com/soul-detox-holiday-in-turkey.html or kat@hadadithaimassage.com
~ Yoga ~ Meditation ~ Sound Healing ~ Nature ~ Culture ~ Stillness ~ Discovery ~ Dancing ~ Singing ~ Relaxation ~ Bodywork ~ Reflection ~ Inspiration ~
A real treat for your body, mind and spirit! Join us for our yoga, meditation and sound healing retreat on the stunning Turkish Riviera. A chance to escape day-to-day life, press the pause button and reconnect with your inner Self again in the company of Mother Nature and great friends (old and new). At the same time, explore the rich culture inherited by the Persian, Greek and Roman times and enjoy the Turkish hospitality.
Our intention is to create a deeply restful experience filled with beautiful practices for relaxing the body, silencing the mind and helping you return to your natural Self. We will draw from different practices and techniques – yoga, meditation, healing sounds, pranayama, massage, chanting, dance, Qi Gong, enquiry and contemplation. Go back home with an open heart space and feeling grounded within yourself.
Huzur Vadisi is the perfect setting with its peaceful energy running through it (Huzur Vadisi means Peace Valley). Set in the mountains above Göcek, you are surrounded by beautiful nature. Everywhere you look, you either see parts of old ruins, ancient olive trees, vines entwining around the shala, or exotic flowers blossoming. We do our practice in a beautiful shala surrounded by bird song.
We start each day with a meditation and yoga practice. The slow yoga classes offer a playful and in-depth exploration of movement and individual postures with the aim of finding more space in the body and accessing deeper strength and a more congruent alignment. As we bring the awareness to what is happening inside and where we are in the present moment, the body is encouraged to release where it is holding. An invitation to play with gravity, free the breath and find space in the body to allow it to move to its full potential.
In the afternoons we will have different workshops. Some more yoga and movement, and lots of chanting to activate our expressive nature, healing sounds to deeply relax and re-calibrate, Thai Yoga Massage to reconnect and open up, meditation and breathing to go deeper – all beautiful practices to help us slow down, connect to the earth as well as the high vibrations of summer. During this time of the year, we can really tap into our inner Joy and allow our true Self to express itself.
On some of the evenings we will gather for some more singing and celebration under the night sky.
On one of the days, we will take a "day off" for a chance to enjoy a boat trip around the spectacular islands along the Göcek coastline. This is optional, and if you prefer you can also chill out on the beach, go for a longer walk, relax in a hammock…
Free time
The rest of the day is free to relax, enjoy the lush pool, chill at the beach, lie in the hammock all day, go walking in the shade of the pine forest.
Possible other activities (extras)
Take a boat trip around the islands off the coast of Göcek, go snorkelling and eat fresh fish, followed by dinner out and shopping in the cute marina
Treat yourself and book a session with the resident massage therapist, who offers deep tissue, trigger point and craniosacral therapy
Spend the day on the beach (transport can easily be organised
Sightseeing trips
Visit a traditional Turkish Bath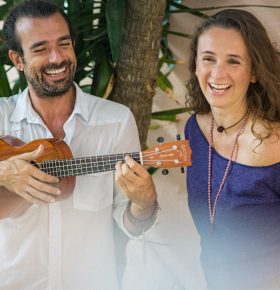 About Katrin
Katrin has always been interested in the body and movement. After many years of dance, her Scoliosis lead her to Pilates and finally to Yoga and Thai Massage, which then became her path in life. For her it's about the never ending discovery of body and mind, to deepen the awareness and to release all tension and stagnation. Only then, the journey towards healing and transformation can begin, the capacity and power of resistance of the body can grow, and more space for positive life energy and joy can develop. Katrin runs a small Yoga studio in Lisbon, where she teachers and gives treatments. And otherwise she travels a lot giving training courses in Thai Massage.
About Casimiro
Singing has always been a big part of José's life, whether in the shower or in karaoke bars, and in his teenage years he took up the guitar and the bass. Later in life, while backpacking through Nicaragua, he found his love for the ukulele, which was the beginning of a very intimate, life-long relationship. Through this instrument he learnt to express his inner worlds, feelings and emotions. Whilst science, philosophy and religions all played an important part in his journey, he only found peace when he started to focus his attention on what was happening inside his mind, his body and his consciousness. He is no longer looking for the answers. José lives a semi-nomadic life between Europe and Latin America playing music, creating sound journeys and soundscapes, and facilitating retreats.