Inuyoga Retreat with Gaby Maass
16 Sep - 23 Sep 2023
Come rest, restore and explore with Gaby Maass. If you are looking to restore your spirit, rejuvenate and rediscover a part of you that has perhaps been dormant for a while then this is the retreat for you. Gaby is originally from Chile and has lived and taught yoga in the UK since 2001, largely in the Lake District. She has over 7000 hours of teaching experience and is the director at Inuyoga. Gaby teaches in a fun, creative and graceful style that connects you with the natural fluidity of your body tissues opening you to a more joyful and relaxed state of being. Inuyoga is based in yin yoga and functional anatomy. Gaby's teaching is subtly evocative and deep transformation and regeneration is well known on her retreats.
During this warm yoga week, you will unwind and soften your body tissues, deeply yielding to your true self, finding enormous release of tension, improved energy levels, peace and emotional contentment.
You will practice yoga twice a day. In the morning, before breakfast, Yin yoga and breathing practices will gradually develop into a detoxing yang flow. A more relaxing and restorative practice takes place in the evening.
Over the course of the week, you will immerse yourself into a blissful state of connection with yourself and nature. The practices we explore often release happiness, and a sense of fulfilment, which allow you to fully enjoy the beauty of your surroundings and the company of others.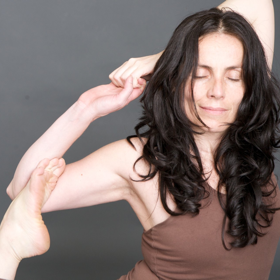 About Gaby:
Gaby has been teaching for over twenty-five years. She now focusses on delivering yoga retreats and yoga teacher trainings internationally. Her qualifications include 500hours Yin Yoga certificate with Paul and Susie Grilley, 200 hours certification in Iyengar Yoga and Yoga Therapy with Arun H.S. (direct disciple of B.K.S. Iyengar), Vinyasa Flow Teaching Certificate with Shiva Rea. Her studies have also included significant teaching from Donna Holleman, Renato Turla, Faeq Biria (all direct disciples of B.K.S. Iyengar), Donna Farhi and John Stirk (Scaravelli inspired) . Gabriela is also a qualified Meditation Teacher with Iuna Meditation and is a student of Ayurveda, Thai massage and Astrology.
Terms and conditions of booking:
Deposit to reserve your place is £300 per person, the total balance due one month before the retreat.
Refunds of the deposit or the full fee cannot be made for cancellations. We do advice that you take travel insurance.
However, you have the right to transfer your place to another suitable person up to 14 days before departure
Prices:
Shared accommodation: £895 
Single accommodation: £965 
Sea view room supplement: £70​
Prices include:
7 nights' accommodation
2 yoga/meditation sessions daily led by Gaby Maass
3 meals prepared in house daily
For more information, please go to: www.gabymaass.co.uk
For bookings contact gabrielamaass@hotmail.com