Scaravelli inspired Yoga meets Somatic Movement with Katrin Heuser & Fairlie Gibson
01 Jun - 08 Jun 2024
A real treat for your body, mind and soul! Join us for our Yoga and Somatic Movement holiday on the stunning Turkish Riviera. A chance to escape day-to-day life, press the pause button and reconnect with your sense of well-being. At the same time, explore the rich culture inherited from the Persian, Greek and Roman times and enjoy the Turkish hospitality.
We both take a somatic approach to our mindful movement lessons, believing that less is more. When you DO less it's easier to sense and feel, to discover what unhelpful patterns of movement you have fallen into, and subsequently to find more resources to explore alternative ways of moving.
Our lessons involve slow, gentle explorations, guiding you to discover the optimal, most efficient and most pleasurable ways of moving for you. The results can sometimes seem magical, especially when they relieve long-held aches and pains. From this practice you might increase body awareness, move more fluidly, learn to distribute your weight and effort more efficiently, enhance vitality, strengthen bones, move without injuring yourself and involve your whole body in your movements.
The practices take inspiration from Scaravelli inspired Yoga, Qi Gong, Feldenkrais, Somatics, and Polyvagal Theory. We include a look at Breathing as well and how that affects movement and wellbeing, and also include Mindfulness Meditation. All ingredients for a more relaxed, balanced and meaningful life.
We aim to provide a safe, nurturing, fun environment for the lessons that anyone can join in. And hopefully there will be plenty of take-aways from every lesson that you will be able to apply in everyday life when you return home. All you need is your curiosity and the ability to come to your mat.
Our intention is to create a deeply restful experience filled with beautiful practices as well as lots of free time for that holiday feeling. Go back home feeling refreshed and more yourself again.
The Huzur Vadisi Lagoon Retreat is the perfect setting. The utter peace and privacy of the venue, immersed in nature, creates a wonderful atmosphere conducive to your practice. Forest bathe, inhale the vital prana, tune into birdsong and the hum of cicadas. We do our practice in a beautiful shala surrounded by forest and the mountains.
A spectacular day trip
On one of the days, we will take a "day off" for a chance to enjoy one of Ian's (our host) famous trips:
By boat we will go along Dalyan river past the famous Calian rock tombs (4th century BC), probably one of the top 10 most stunning views on earth.
We stop at Kaunus, one of Turkey's main ancient cities and visit the old amphitheatre, chapel, market place and harbour.
Then we make our way through the protected river delta's reeds to anchor just behind the tip of Iztuzu beach, also known as 'turtle beach'. Here we will take a little break to have grilled fish and a large vegetarian mezze of Turkish specialities and maybe have a little swim.
From here we make our way to the other side of Dalyan to cross the stunning Köyceğiz Lake, which is surrounded by nature reserves.
On the shore across the lake, we visit a traditional mud bath and hot springs.
To end our fun day out, we return to Dalyan and have dinner in one of the river front restaurants. (There will also be a little time to potter around town and do a little shopping…)
​This day trip is optional, and if you prefer you can also chill out on the beach, go for a longer walk, relax by the pool…
What previous participants say about our retreat
"We had such a wonderful week at The Lagoon Retreat. The yoga shala is a truly zen space, looking out over the valley with the sounds of the birds, insects, goats, and of course the Call to Prayer accompanying our practice. The pool terrace, with the view across the lagoon and out to sea is heavenly; it's easy to spend hours watching the light change while the swallows take their evening dip in the pool. Venturing out from the retreat there's plenty to do, taking a walk down to the lagoon for a swim, or spending some time at Turtle Beach. Snorkelling along the rocks I found myself face to face with a majestic turtle who permitted me to follow for a good ten minutes before she headed out to sea. I'm sure my perfectly crafted yoga sessions with Kat and Fairlie enabled a state of peace that brought about this cosmic encounter!"
~ Amanda
"My highlight is the anticipation for next year… Ian has yet again created an incredible place. I was really taken by the breathtaking location and its seclusion. The staff are incredibly attentive and accommodating. The week was super varied with gentle yoga, new experiences with Feldenkrais, massages of the highest standard, really delicious and healthy food and wonderful excursions."
~ Ursula
Free time
We start and end every day with a 2-hour practice. The rest of the day is free to relax, enjoy the lush pool, chill at the beach, go walking in the shade of the pine forest, or dip into the riverside town of Dalyan for some shopping.
Possible other activities (extras)
Treat yourself and book a session with the resident massage therapist
Spend the day on the beach (very easy bus ride away)
Various sightseeing trips are available
Get scrubbed and pampered in a traditional Turkish Bath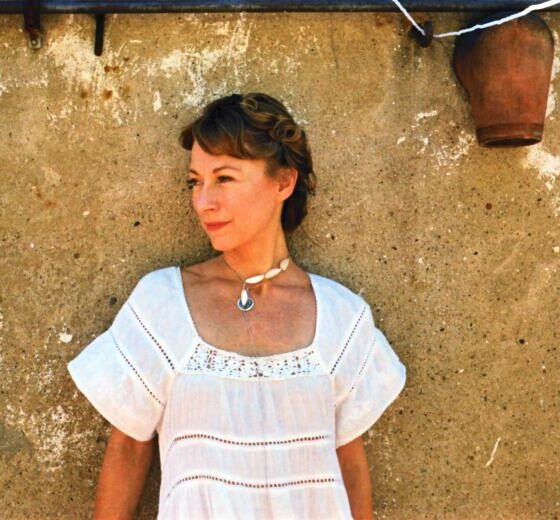 About Katrin
Katrin has always been interested in the body and movement. After many years of dance, her Scoliosis lead her to Pilates and finally to Yoga and Thai Massage, which then became her path in life. For her it's about the never-ending discovery of body and mind, to deepen the awareness and to release all tension and stagnation. Only then, the journey towards healing and transformation can begin, the capacity and power of resistance of the body can grow, and more space for positive life energy and joy can develop. Katrin runs a small Yoga studio in Lisbon, where she teachers and gives Osteothai treatments. And otherwise, she travels a lot giving training courses in Thai Massage and her therapeutic and trauma-informed approach to teaching Yoga.
About Fairlie
For many years a Yoga teacher inspired by the work of Vanda Scaravelli Fairlie is now embracing the work of Moshe Feldenkrais and Ruthy Alon. She also brings some Qi Gong into her practice and teaching. These practices all feed beautifully into the way she likes to teach Mindfulness Meditation.
​Very similarly to me, Fairlie loves how contemporary Science, Anatomy, Physiology and Neuroscience are all questioning and validating traditional Yoga practices and she relishes the explorations that these disciplines have brought into her life.
Prices
EARLY BIRD – BOOK UNTIL 1ST MARCH 2024!
SAVE £100!!
£855 – place in shared twin or double
£775 – place in a 4-bed spacious dorm
£995 – place in single
£1,070 – single occupancy of large sea-view suite (£920 if shared)
NORMAL PRICE – AFTER 1ST MARCH 2024!
£955 – place in shared twin or double
£875 – place in a 4-bed spacious dorm
£1,095 – place in single
£1,170 – single occupancy of large sea-view suite (£1,020 if shared)
The prices include:
Seven nights en-suite accommodation in boutique, rustic rooms. Each room is a little different with their own special features (some have a balcony or little terrace, some have a small kitchenette).
Delicious and healthy vegetarian breakfast and dinner every day, plus light DIY lunches provided in the guest kitchen
​Tea/coffee/fruit/biscuits all day
Ten 2h Yoga, movement & meditation classes
They don't include flights, insurance, massages, airport transfers, other trips and activities.
Info and booking: https://www.hadadithaimassage.com/yoga-holiday-turkey.html or kat@hadadithaimassage.com