Yoga and Meditation Retreat – Come Home to Yourself with Sarah Bonner
19 Jun - 24 Jun 2023
Yoga and Meditation
Start your day with a healing yoga flow practice followed by seated meditation.  Let me guide you through your yoga practice and support you while you find space and move a little deeper towards peace. I don't believe in 'cookie-cutter' yoga where we all look the same in a pose. I give you the freedom to experience yoga without worrying about what you look like so that you can experience what it feels like.
I will put some myths about meditation to rest (for example, you will not be told to clear your mind) and show you some different techniques to incorporate meditation and mindfulness into your daily life.
Our day will end with a relaxing restorative/yin yoga class or yoga nidra.
Creative Workshops
I will teach you how to make your own 108 bead mala using precious stones and the ancient technique of knotting between each bead called Brahmagranthi. This is an incredibly meditative practice, and you can then use your mala throughout the week during meditation and then when you return home.
Reiki
I will be available for Reiki treatments and offering attunements (at a small additional cost) for those who are ready to dive deeper into their self-healing journey. Reiki helps you to step towards the light being that you were destined to be.
Know that by attending my retreat you will be able to truly relax, restore and reset.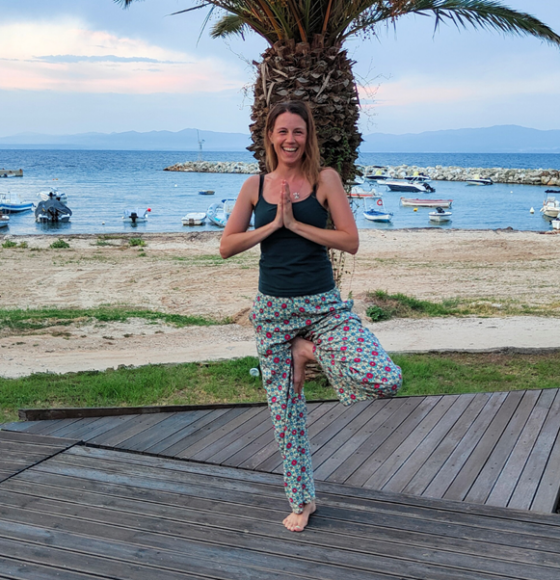 About Sarah
Sarah was diagnosed with postnatal depression after the birth of her second child in 2016 and found peace and security during her yoga practice. She started her journey towards self-healing when she trained to be a yoga teacher in 2018 because she wanted others to feel the serenity that she felt after every yoga class. Teaching yoga led Sarah to become a Transformational Meditation teacher and a Reiki Master.
Sarah creates an inclusive space for her students to move through their yoga practice safely where they can feel all their emotions and connect with their breath. With the use of props, essential oils, soft music, and a large helping of humour, rest assured that your comfort is her number one priority!