Devotion to Nature: Yoga in Norway with Monica Voss
28 Apr - 05 May 2024
Please join me in a new venue – a former meditation retreat centre in the mountains of Hedalen, Norway, 2 hours north of Oslo. I'm very excited to offer this opportunity. It's been a long time since I've enjoyed the mountain vistas and spectacular fjords of the Norwegian countryside. Extend your visit in Oslo with its fantastic Viking museum, sculpture gardens and galleries.
At our centre near Valdres, there's a main house for indoor activities – reception, yoga and meditation practice, eating, and sauna. Our accommodation is in 10 cabins with panoramic views of the surrounding mountains. Each cabin has 2 bedrooms with bunk beds, one bathroom and a little kitchen (the rooms are all singles but everyone shares a bathroom with one other person). The buildings, interiors and all the fittings are simple and lovely. The property is spacious with gardens, fields, river and forest all close at hand to inspire and relax. Choose to hike, stroll or rest and breathe. Guided walking can be arranged. Three meals/day of varied vegetarian cuisine are served buffet-style.
In spring, the weather will be cool – perhaps 15 degrees C – and is a wonderful time for bird and wildflower watching.
Transfers can be arranged from Gardermoen airport in Oslo. Car hire is available from the airport. It's also possible to travel from Oslo by train or bus to Nes i Adal and the final piece to the retreat by taxi.
Monica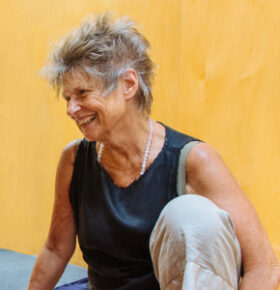 MONICA VOSS has been a student and practitioner of yoga for 45 years. In addition to co-owning and directing Esther Myers Yoga Studio in Toronto, Canada, Monica conducts workshops, retreats and teacher training internationally.
Price:
Single room with shared bath and kitchen: $2095 pp
All prices listed are in Canadian dollars and include taxes and agent's fee.
INCLUDED
7 nights at the retreat centre, 3 meals/day, travel agent fee
NOT INCLUDED
Flights to and from Norway, all transportation within Norway, snacks, alcohol, excursions, guiding fees, gratuities, massage, laundry, flight and medical insurance.
For more information please contact Monica on: monicajvoss@gmail.com
Or visit – Yoga in Norway, with Monica Voss…NEW! – Esther Myers Yoga Studio (estheryoga.com)