A peaceful week of yoga & sunshine with Clem Balfour YOAS
28 Aug - 02 Sep 2023
Retreat programme
Clem will offer two yoga classes each day. The morning class will offer meditation, pranayama and  a flowing asana class to gently open the body and attune the mind to the breath. Allowing space for the body and mind to expand, strengthen and feel lighter.
There will be time set aside in the day to take in the stunning beauty of the surroundings, relax by the pool, head off to the beach or take a walk.
The group will meet again in the late afternoon for a more relaxing and restorative practice. The classes will be suitable for all levels and yoga experience. There will be one yoga free day and no yoga on travel days.
Clam Balfour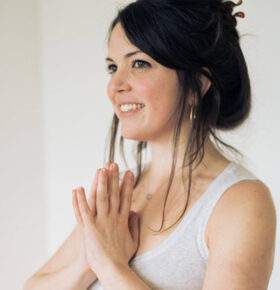 Clem is a passionate and fun teacher drawing on her experience after finding yoga over 12 years ago. Clem teaches uplifting classes, leading sequences inspired by vinyasa flow (aligning breath and movement) as well a slower more gentle yin practice, which allows her to respond to the energy in the room.
Through her teaching Clem explores the elements of yin and yang in the practice, to help balance out your energy and allow you to experience the effects of Yoga for your body and your mind. Her approach is to lead you through yin & yang classes that often begin with a slower more restorative practice with longer holds to help you unwind. Transitioning into a more dynamic vinyasa-based flow to allow you to leave the space feeling energised.
Clem has trained all over the world building on her love for vinyasa flow with Yoga London and The Yoga People. Her love for yin has been developed with trainings with Norman Blair and most recently Bernie Clarke. She is a founder of the 'Yoga Brunch Club', a popular events and retreat business running all over the UK, combining open level, energising yoga sessions, collaborating with chefs to create sit down feasts in beautiful surroundings.
Costs
Double or twin room en-suite – £895
Single occupancy room en-suite – £995
Prices are per person
Includes:
Accommodation
Three vegetarian meals each day
Daily meditation and yoga classes (apart from one yoga free day)
Not included:
Airport transfers
Dinner out at a local restaurant one evening
Optional day-trip and other excursions
Massage treatments
A 50% non-refundable deposit is required on booking and the balance is due 6 weeks before you travel.
For further information please contact Wendy on
Telephone: +44(0)20 7733 2996
Or to find out more visit the Yoga on a Shoestring website:
A peaceful week of yoga & sunshine in Almeria : YOAS – Yoga on a Shoestring