Yoga retreat in nature in rural Wales with Ash Bond YOAS Yoga Retreats
08 Aug - 11 Aug 2024
Retreat programme
There will be two yoga classes each day with Ash. Mornings will begin with a quiet meditation and gentle pranayama followed by an energising yoga asana practice. In the evenings there will be a shorter relaxing restorative yoga class to ease you into your evening. Ash will also offer optional workshops throughout the weekend.
Each day after morning yoga and breakfast there will be the opportunity to explore, take a dip in the wild swimming pool, have a sauna or simply relax.
Arrival time on Thursday 8 August is from 4pm onwards. The first yoga session will be at 5.30pm. The weekend will finish at 10am on Sunday 11 August, after breakfast.
Things to do
Garth Barns offers comfortable accommodation in which to relax and enjoy a good book, take to the hills and fields on long (or short) stunning nature walks. Amble about the local town, have a cup of tea or peruse the shops. Take a sauna or a dip in the natural swimming pond. There will be delicious vegetarian food and plenty of time just to hang out and chat, meet new people, read, relax and enjoy being in nature and taking a break. A variety of massage treatments will also be available at an additional cost.
Ash Bond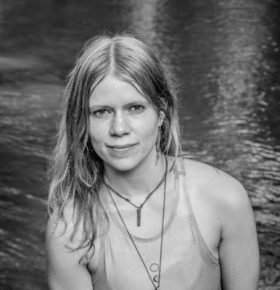 A yogi with the soul of a poet, Ash believes that yoga is the steady fire that fuels the body and inspires the mind. In yoga Ash has found a tool for liberation, a means to heal and to awaken our deeper authentic selves.
After spending a number of years as a secondary school teacher, Ash turned to yoga as a full time path, one that she has now been following for more than a decade. She has taught and travelled internationally, including five years teaching in Malaysia, China and Thailand and on the 'Freedom through Movement' project in Palestine.
Believing fully that presence is nurtured beyond the mat, Ash embraces influences from many movement patterns in her yoga teaching: rock climbing, running and free-diving are woven into dynamic vinyasa, steady bodywork and peaceful breath-centric restorative practices. Inspiration for her classes is rooted in the Earth's elements and in the bodies and stories of the students that she welcomes.
"Yoga for me is a chance to remember what I have forgotten; to allow myself to feel."
Costs
Accommodation options:
Triple room: £725
Twin or double room: £745
Single 0ccupancy room: £795

All room rates are per person and include all meals, accommodation and yoga classes.
A 50% non-refundable deposit is required on booking and the balance is due 6 weeks before you travel.
To find out more please contact Wendy on:
Telephone: +44(0)20 7733 2996