The Pomegranate is a small, individually designed hotel, with stylish rooms and an abundant garden. It has beautiful coastal views from the terrace and some rooms. The name represents the health giving properties of this wonderful fruit with its ruby red seeds, native to Turkey and the Mediterranean. It also has symbolic and mythological associations with natural cycles, rebirth, and renewal, which we hope you'll experience on your yoga holiday here.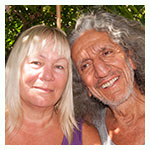 Sigi and Metin
The Pomegranate is for those who want a little more convenience and comfort, with air-conditioning and en-suite rooms, while still surrounded by authentic and rural Turkey on this unspoiled stretch of coastline.
Sigi and Metin, your hard working and enthusiastic hosts at The Pomegranate, combine the best of Turkish and Mediterranean cooking to provide an international twist on many traditional dishes. They also make many of their own preserves and provide fruit from their extensive garden.